Today we continue our analysis of the SME sector, using data from our recently completed SME survey. Yesterday we showed that overall SME's are still in the doldrums, but the construction sector is definitely on the rebound, showing stronger confidence, and demand for finance, This is a direct consequence of the low rate environment, and increasing demand for housing. The rebound is strongest in NSW and VIC, which aligns with recent strong property prices. As we reported previously,we need 900,000 more dwellings to be built over the next three years to meet current and anticipated demand. Construction sector SME's have an critical role to play, as they either provide sub-contracting services to larger building companies or fund their own speculative developments. We start our discussion looking at the drivers of SME confidence. Compared with last year, concerns about political instability have diminished, whereas availability of credit now has more weight.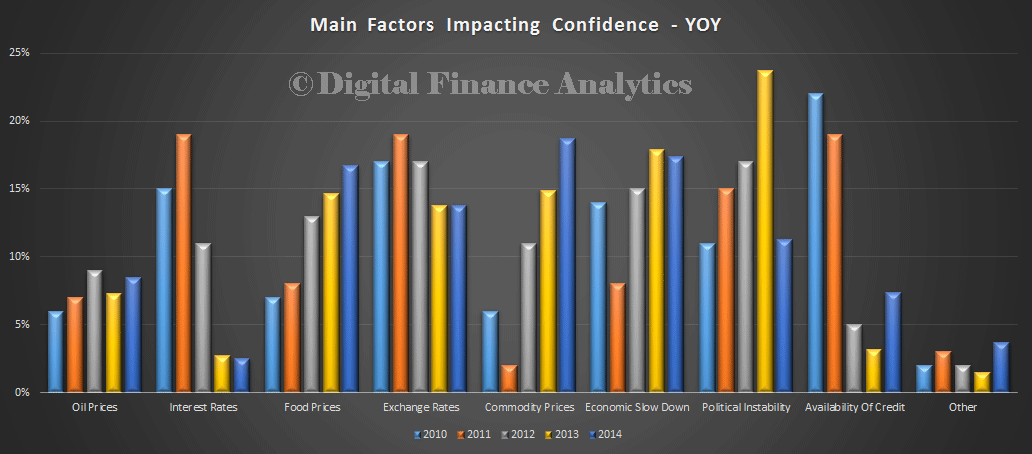 If we look at the year on year changes in confidence, for the last two years, confidence does vary by industry. Specifically, we see a rise in confidence in the property and business services sector, and construction. In comparison, manufacturing confidence has dropped, as has confidence in the mining sector.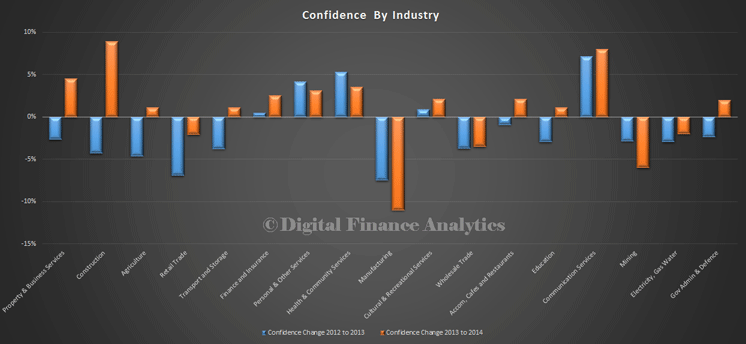 Next looking at what is driving funding needs, we find that the biggest, and growing need is for working capital.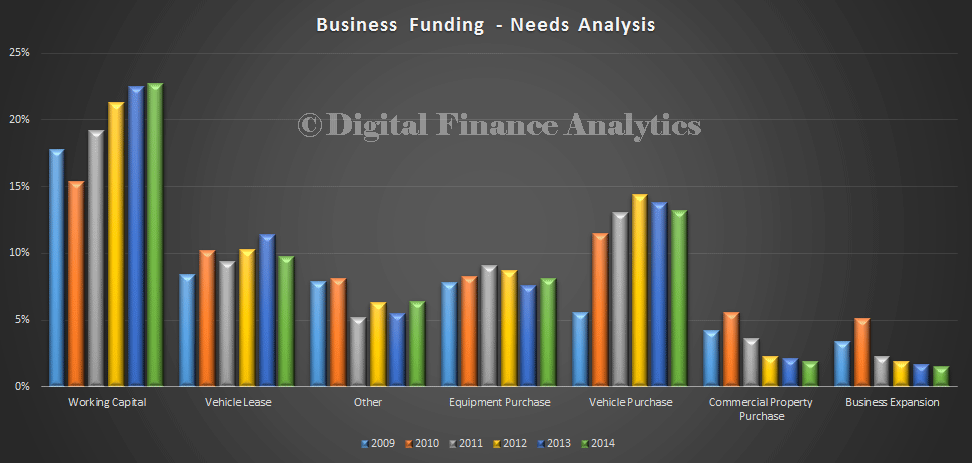 We find that this need is driven by cash flow issues. Cash flow is being hit by long payment cycles, the need to pay taxes and GST, to pay wages and to buy materials. Business expansion was not identified by many SME's as a reason to borrow more. This indicates that businesses are still operating in survival mode.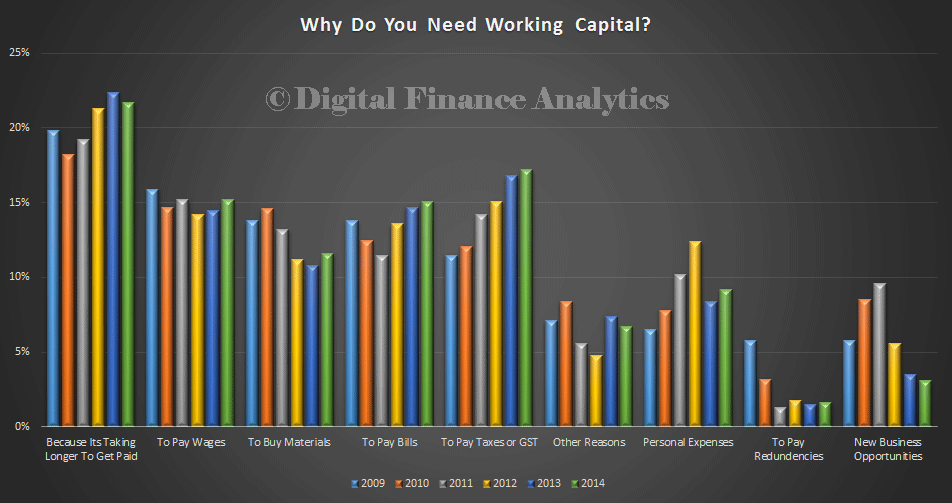 Looking specifically at debtor days we see a slight improvement this year, with the debts outstanding over 50 days falling for the first time in a couple of years.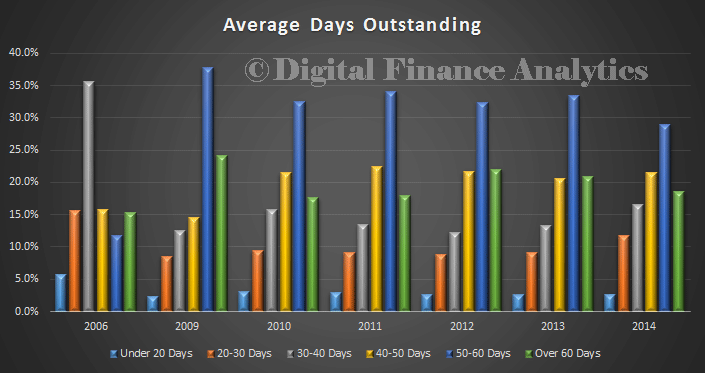 Now we turn to the LVR (Loan to Value Ratio) for specific industries. The most significant observation is that SME's in the construction sector have increased their borrowing, relative to their assets. This is a sign of increased momentum in the sector. Construction tends to have a higher LVR because of nature of their business, but we see a significant trend change this past year. This data relates only to those SME's who borrow, not all do so.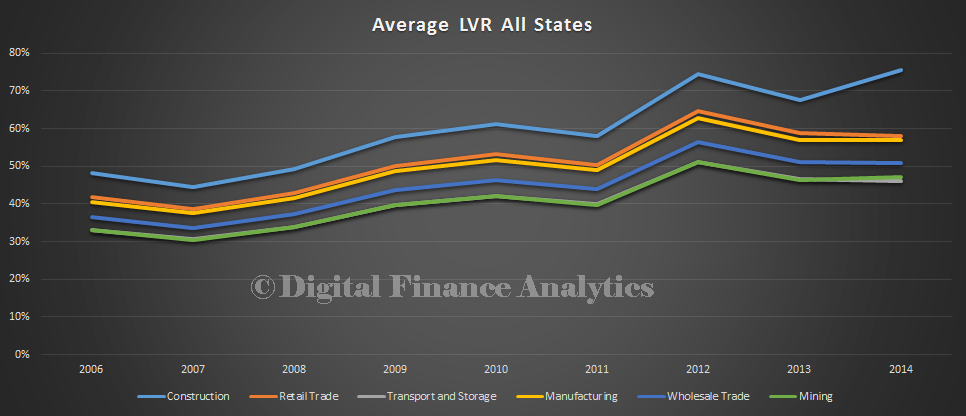 Then if we look at losses, we see the banks are still experiencing elevated levels of loss, compared with the pre-GFC environment from the SME sector. There are some state variations, and we saw some divergence in 2011-2012. The latest data from our models indicates an adjustment towards more consistent state norms. These higher loss rates explain partly why the capital allocation and loan pricing for SME's is higher than other classes of lending. We have highlighted the problem with these differences.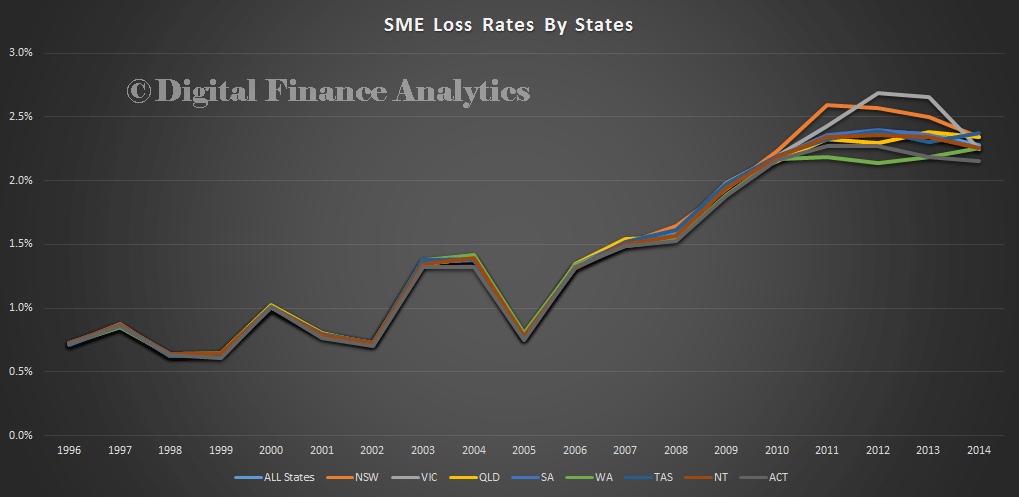 Finally, if we look at losses in the construction sector, they are still above the SME average, but are trending down, other than in WA which have been consistently lower than other states, but is now trending up now.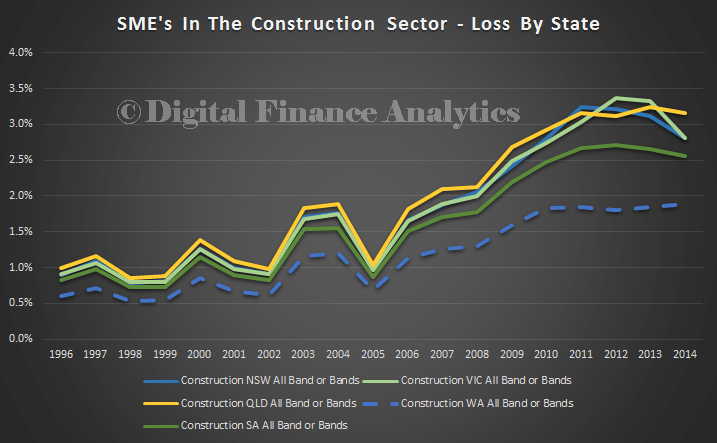 So putting all this together, the frail SME sector is patchy. Construction is waking up, with increased demand for finance, and bank losses falling. On the other hand, the resource sector is slipping off its highs. Other sectors, including retail and manufacturing are still languishing. The RBA's wish to effect a transition from the resource sector to the construction sector is registering in the survey. Confidence in the construction sector is stronger, and momentum is picking up. The recovery is strongest in NSW and VIC, and slowing in WA. Fewer than 10% of all SME's are linked with the construction sector, so others are not fairing as well, and continue to grind out a hand-to-mouth existence. We cannot put all our eggs in the construction basket!